Iran says it will defend against any 'aggression'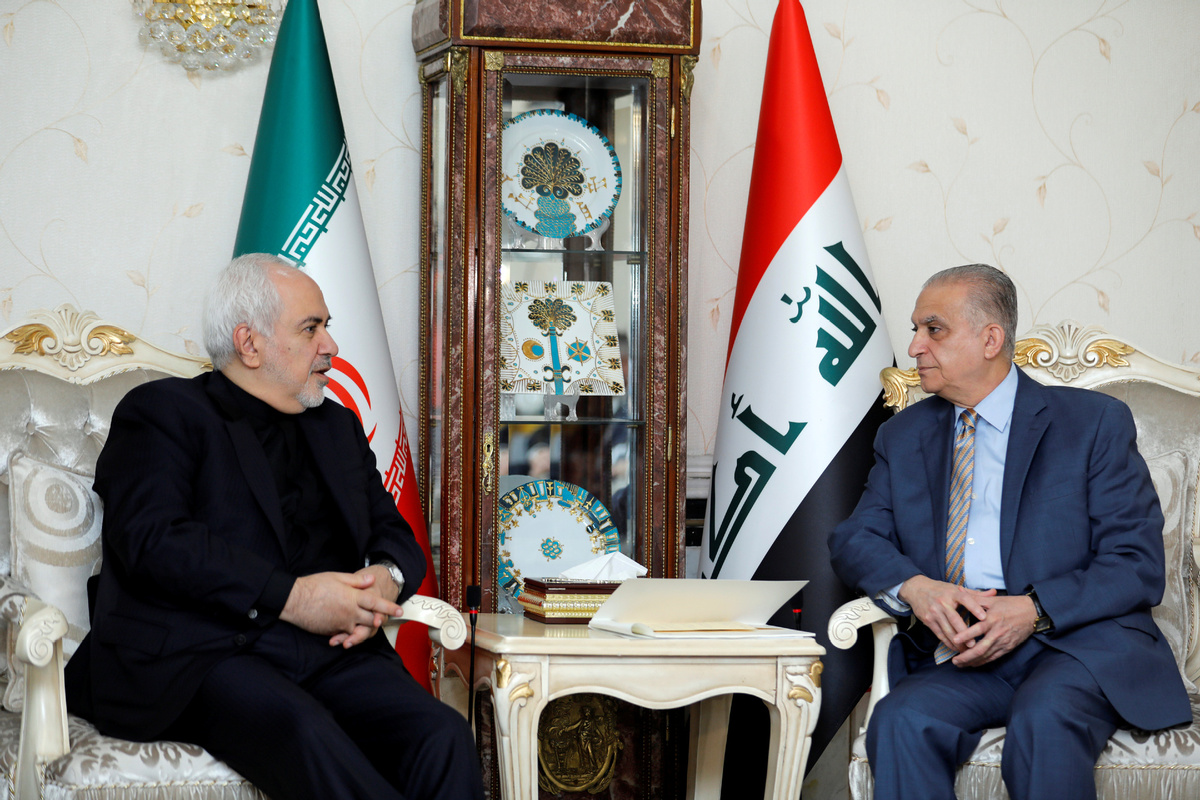 Iraq offers to be mediator in crisis between Washington and Teheran
Iranian will defend itself against any military or economic aggression, Iranian Foreign Minister Mohammad Javad Zarif said on Sunday, Reuters reported.
Speaking in a news conference in Baghdad with his Iraqi counterpart Mohammed al-Hakim, Zarif said his country wanted to build balanced relations with its Gulf Arab neighbors and that it had proposed signing a nonaggression pact with them.
"We will defend against any war efforts against Iran, whether it be an economic war or a military one, and we will face these efforts with strength," he said.
Zarif made the comments shortly after he arrived in Baghdad beginning a two-day visit. During the visit, he met with Hakim and Iraqi President Barham Salih, according to Iran's state news agency.
Iraq stands with Iran and is willing to act as an intermediary between its neighbor and the United States, Hakim said, adding that Baghdad does not believe an "economic blockade" is fruitful, a reference to US sanctions.
"We are saying very clearly and honestly that we oppose the unilateral actions taken by the United States. We stand with the Islamic Republic of Iran in its position," said Hakim. The US and Iran are Iraq's two main allies.
In recent weeks, tensions between Washington and Teheran soared over US deploying an aircraft carrier and B-52 bombers to the Persian Gulf over a still-unexplained threat it perceives from Teheran. The US also plans to send 900 additional troops to the 600 already in the Middle East, The Associated Press reported.
The crisis is rooted in US President Donald Trump's withdrawal last year from the 2015 nuclear deal between Teheran and world powers that capped Iran's uranium enrichment activities in return to lifting sanctions. Washington subsequently reimposed sanctions on Iran, sending its economy into free fall.
On Saturday, Zarif called the deployment of extra US troops to the region "very dangerous and a threat to international peace and security".
Iran's Ambassador to the United Nations Majid Takht-Ravanchi said that Iran does not want any war in the region amid the rising tensions with the US, official IRNA news agency reported on Saturday.
The Iranian official stressed that in the first place "Iran does not desire war in the region, neither with the US nor with any other country".
Meanwhile, Iranian President Hassan Rouhani suggested the Islamic Republic could hold a referendum over its nuclear program. The official IRNA news agency said Rouhani made the suggestion in a meeting with editors of major Iranian news outlets on Saturday evening.
Agencies